Our Quality Is Our Strength
David Ezzy owns his own factory because no other factory or manufacturer in the world is able to meet the demands for quality. The Ezzy factory in Sri Lanka was built with the sole purpose of creating the highest quality sails in the world.
Passion
We love windsurfing. We have dedicated our lives to windsurfing and making gear to fuel that passion.
Customer Service.
Emails us and you'll get an answer within hours.
SURF magazine Praises the Cheetah
The Cheetah's easy rigging and remarkable stability caught the attention of the SURF magazine test team in their latest test. They conclude that the Cheetah's smooth planing and effortless jibing make the sail perfect for freeriders of all levels. Read the whole test on the Cheetah page: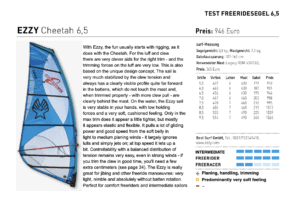 LOOKING TO IMPROVE YOUR TACK?
The fast tack is a key move for staying upwind and feeling confident on the water. Tacking helps you catch more waves and have more fun.
This online course make the fast tack accessible to anyone with an internet connection and 10 minutes a day to work on the exercises. With the Dry Land Exercises, you don't even need wind to improve your muscle memory.