Ezzy Manufacturing
We use the beautiful beaches of Maui as our testing grounds for Ezzy products, and it is in our Maui sail loft that most of our ideas are conceived.
After perfecting the latest designs in Hawaii, we then need to put our manufacturing skills into over drive, and our factory in Sri Lanka steps in and puts the same development and pride into the sails that we do stateside.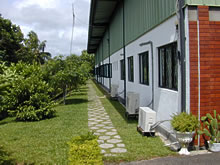 Ezzy Sails Lanka (Pvt.) Ltd.
est.1993
Ezzy Sails Lanka is owned by American David Ezzy, the major shareholder, and Sri Lankan investors including the Ezzy Sails Lanka management team. The factory, built in 1997, has 22,000 sq. feet, which includes the main factory building where we cut, sew and screen print; the office; stores; and darkroom. A second building houses our canteen and men's and women's washrooms. We have fully-outfitted welding and wood workshops. A smaller building houses our generator and compressor.
Why Sri Lanka?
Sri Lanka's literacy rate is 88.6%, one of the highest in Asia. Our highly skilled and educated workers have an old-fashioned ingenuity and posses fundamental mechanical and creative abilities. Sri Lankans are religious, family-oriented people, extremely hard-working and honest. To encourage employment opportunities for their citizens, the Sri Lankan government has set up protected, free trade zones. Our Ezzy Sails Lanka factory is one of these zones.
Ezzy Sri Lanka Staff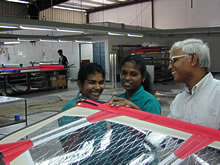 In Sri Lanka, the workers rights are as strong as in any developed nation in the world. Sri Lanka has a 7 1/2 hour work day and strict overtime laws. The strict child labor laws are patterned after those in the United States and Britain. At Ezzy Sails Lanka, workers get paid every two weeks and we match the national pension fund and national yearly cost-of-living increase. The staff at Ezzy Sails Lanka are talented, Sri Lankan nationals including our accountant, engineer, and general manager. These management-level employees, as well as our factory supervisors, are all proud shareholders of our company.
Environment of our Facility
Clean and neat, spacious and comfortable, Ezzy Sails Lanka has a friendly, courteous atmosphere. We specialize in anything that is sewn and we pride ourselves in doing a perfect job. Our concern for high quality naturally extends to our own factory environment and the employees and families of Ezzy Sails Lanka. We have a complete recycling program in place: nothing is wasted. In our canteen, the kitchen staff prepares and serves nutritious meals. The Sri Lankan national sport is cricket and our employee cricket team holds daily practices on our very own field. We hold annual parties with games for the employee's children. And we employ drivers to shuttle people to and from home in our company vans.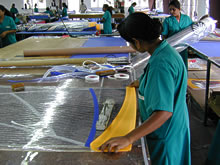 Products Manufactured By Ezzy Sails Lanka
Windsurfing Sails
Surfboard Bags
Sail Bags
Travel Bags
Saftey Harnesses
Wallets
Key Chains
Golf Flags
Kites
Backpacks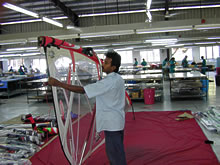 At Ezzy we are very proud of the effort we put into our products, and we hope you enjoy the results!
David Ezzy and the Ezzy Staff
Contact Information:
Sri Lanka:
Ezzy Sails Lanka (Pvt.) Ltd.
Ring Road 1, Phase 1,
K.I.P.Z., Katunayake
Sri Lanka
Tel : (94) 11 22 54672, (94) 11 22 55362, (94) 11 22 55363
Fax : (94) 11 22 54673


[email protected]

USA:
David Ezzy
760 Mopua Place
Haiku, HI. 96708
USA
Phone: (808) 575-2566
Fax: (240) 266-8331


[email protected]