UK wave ripper and speedsailing addict, Steve Thorp, founder of K4 fins, has joined Ezzy Sails – speaking on the move Steve said – "It's really exciting for me to be moving to the Ezzy team, I've long admired the sails and always loved watching the sailing style and high level performance of Graham and Kevin. Hopefully something will rub off!
I've been using the Taka2 already (thanks to Boardwise for the loan) and it's a fantastic sail -smooth easy power delivery in high winds yet excellent low end pull for wobble n ride (the pic is of Freshwater West where I'm using the 4.7 in what turned out to be about 12mph of wind most of the day!).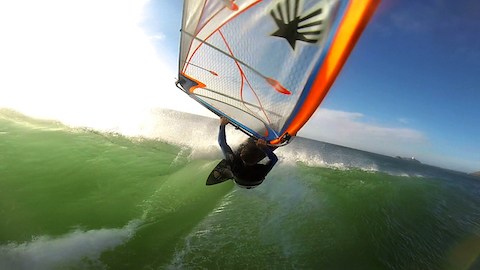 The main draw for me though is the strength. I love powerful waves and drive to all four corners of the British Isles when they grace us with their presence. The word from every sail repairer I spoke to was that the Ezzy sails are now far and away the strongest. That's really important to me. There's nothing worse than driving 500 miles and the session being cut short or worse. There's also a real lack of sail repairers in the midlands so it becomes a major head ache.
The new Taka 3 looks amazing, I really can't wait to get them on the water, and they made them yellow for me!
A huge thanks to Wouter and the Ezzy family for accepting me on the team."
Uk importers www.seaspritesports.com are thrilled that Steve Thorpe (K4 Fins) has chosen to ride Ezzy Sails – "Steve is one of UK's most respected wave sailors, willing to travel the length of the UK to chase the best conditions. Steve understands the importance and benefits of performance equipment which helps him in his fin development of his popular K4 Fin range. We welcome him to the Ezzy Sails Family –  Wouter Ardern ( Ezzy UK)"