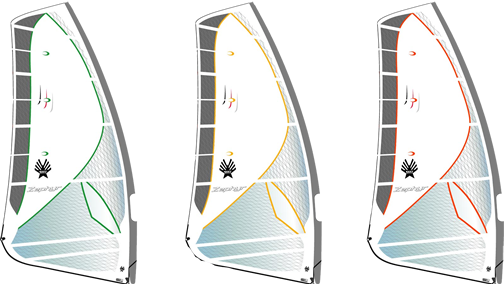 Click on sail image for zoom view
Color Choices - Based on Head Color
Green | Orange | Red
RIGGING GUIDE AND CATALOG


Back to our roots. The Zephyr takes us back when you could go out in 10 knots or less and have a really fun time. The long boom length combined with the stable profile gives the Zephyr the power of an 8.5 and the control of a 6.5.
Light and easy to throw around. The Zephyr is a blast to sail on Stand-Up Paddle (SUP) boards, as well as freeride boards.
New seam shaping.
The Zephyr has a camber-like profile without using cams. The Zephyr has a deep and draft forward foil which is what you want for light air sailing. For stronger wind, apply more outhaul to flatten the profile, and the Zephyr becomes a perfect high wind Freeride sail.
Easy to rig. To take the guess work out of rigging, the Zephyr has color coded outhaul and downhaul indicators.
Built to last. The Zephyr contains no monofilm. The Technora® leech panel provides low stretch along the leech. The new Tri-Lite scrim cloth in the center panel is lightweight and strong. The lower panels and luff panels are built with our super tough Spectra® X Film. The battens are RBS® epoxy. The Zephyr also has a vinyl window for durability and perfect visibility.
You're not the first to rig it.
Our quality is guaranteed because we rig every sail in our factory before it's shipped.
Unmatched customer service.
We take our customers as seriously as we do our sails.
Email us ([email protected]) and you will get a personal response within 12 hours.
Note on Ezzy Masts
Ezzy Sails work great with the Ezzy Mast system, but also work with a variety of other brand masts (RDM and regular diameter). You could contact your mast maker and see if the bend of your non-Ezzy mast is compliant.
Ezzy mast bend curves are tip: 75% to 79% and base: 62% to 65%
Note: this is not carbon content. This is percentage bend relative to the midpoint bend.
For further info on Ezzy Mast sizing, please refer to our Mast Configurator Tool
Our removable, 316 stainless steel tack pulley can be replaced with our 316 stainless D-ring for those who prefer a grommet with a pulley hook.

Every Ezzy Zephyr is rigged and fine tuned in our factory before shipping.
At Ezzy we offer unmatched customer service.
Email us at

[email protected]

and you will get a personal response within 12 hours.
"Hi David,

I sailed the Zephyr in light wind, it was NE 6-7 mph when I first went out,was not planning, but not slow either. It picked up to 11-12, and I was planning. Without a doubt the Zephyr has as much low end power as an 8.5. It was easy to sail on all points of sail, and in gusts, as stable as a cambered sail.

The Zephyr is an amazing sail! I never thought I would see a camless sail perform like a cambered sail, especially in light wind. I will sail in medium wind next,and lastly strong wind."

--James
"Here's my take on the Ezzy Zephyr 7.5:

Rigging is staightforward and the indication marks on
the sail for downhaul tension and outhaul distance are very useful. It's a pleasure to rig on a 460 mast. The boom is longer than I'm used to as this is a low aspectpowerful sail. I just had to adjust my tacks and gybes to keep the clue end clear of the water—no problem.

I like the fullness of this sail, and even with that, the battens rotated very easily. The REAL JOY of this session, though, was how well I was able to plane in about 12 MPH! The water was not even capping, so I know it wasn't windy. It was one of those days that I used to talk myself into going out and then be bummed by lack of sailing fun. Not so with the Zephyr. It pulled like a little pony and had me laughing out loud. It gave me confidence to sail anywhere on the lake and know I could get back to my dock without slogging.

A versatile and forgiving sail for cruising. I'll definitely put one of these on my summer wish list."

--Joann
That sail is fantastic for short boarding. It is very light and easy to handle. I hit 38.6 on it in August. I sail it on the Kona RRD 133 JP 116 JP 106 JP 86

Our friends use it on the Formulas. They love how easy it is to uphaul in choppy conditions. I sailed it last night in 17 knots on the JP 106 it was fantastic!

--Shawn