THE 2015 LEGACY SERIES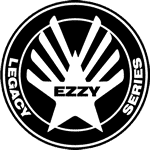 David Ezzy's design goal with the legacy was to develop a pure and simple
sail while at the same time retaining the performance and durability that he
demands in a sail.
By removing some of the extra features present on our
premier sails, the legacy is sure to fit anyone's budget. The smaller Legacy's
are wave designs, while the larger sizes are freeride.
The legacy tack fitting uses a removable D-ring, that can be replaced with
our premier pulley. Optional mast pad, batten tensioner key and head
extender can be purchased from our dealers or our web site.
"The Legacy has everything you need and nothing you don't need. The Legacy reminds me of the days when I was getting full-on custom sails built for competition, they had none of the marketing b.s. that people think they need but don't really. This sail is a classic Ezzy design, pure and simple. "

Kevin Pritchard - Ezzy Team Rider
RIGGING GUIDE AND CATALOG
LEGACY SAIL SPECS
2015 Ezzy
Legacy
Luff
Luff
Boom
Boom
No. of
Suggested
Weight
Size (sq.m.)
min
max
min
max
Battens
Mast
Kgs
4.2
378
380
149
157
5
370/27/17
2.72
4.7
402
404
157
165
5
400/25/19
2.92
5.2
421
423
165
173
5
400/25/19
3.13
5.8
441
443
171
178
5
430/25/21
3.33
6.5
452
455
189
198
6
430/25/21
3.88
7.5
475
478
202
212
6
460/25/25
4.14
Note on Ezzy Masts
The Ezzy Hookipa Mast
Ezzy Sails work great with the Ezzy Mast system, but also work with a variety of other brand masts (RDM and regular diameter). You could contact your mast maker and see if the bend of your non-Ezzy mast is compliant.
Ezzy mast bend curves are tip: 75% to 79% and base: 62% to 65%
Note: this is not carbon content. This is percentage bend relative to the midpoint bend.
For further info on Ezzy Mast sizing, please refer to our Mast Configurator Tool